Experienced occupational therapists and human rights advocates Theo Bogeas, Dr Kit Sinclair and Reality Learning Director Judith Hewitson were pleased to present on immersive online training for therapists working with displaced people at the World Federation of Occupational Therapists' 18th Congress in Paris this week.
The congress brought together some 2500 delegates from over 100 countries to discuss leading research and practice for future resilience and strength of the sector internationally.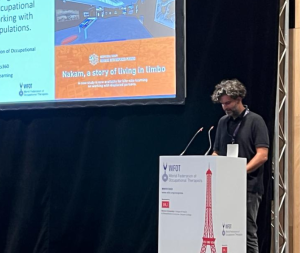 Building on themes of transforming practice, education and research, the WFOT and Reality Learning team were pleased to share training avenues to transform industry practice and impact through immersive learning and technology solutions.
Alongside master-classes hosted by Dr Kit Sinclair and Judith, occupational therapist and HumanRights360 Project Manager, Theo Bogeas, presented on the award-winning VR and eLearning program 'Working with Displaced Persons', and micro-course and scenario Nakam's Story.
This program developed in partnership by Reality Learning and WFOT in 2019 offered members with an immersive learning to put them into the lives and shoes of displaced persons in Athens, Greece, in the height of Europe's refugee crisis.
Integrating VR technology and 3D video into educational opportunities, Theo discussed the opportunity of emerging technology to create new blended models of learning, share stories, and communicate simple to complex subject matter.
Judith Hewitson said it was wonderful to share these new models of online and narrative based training and vital to explore avenues to engage health professionals on very real challenges emerging for the profession and our wider wold.
Reality Learning thanks to World Federation of Occupational Therapists (WFOT) for providing a platform to connect and share new ways of working and building professional capacity for the challenges to come.